SoftOx launches fast-track inhalation solution studies for the treatment of COVID-19 patientsand claims the antibiotic is a breakthrough for mutated viruses.
The news of a possible vaccine breakthrough against COVID-19 infections from Pfizer and BioNTech on Monday created strong optimism. However, experts warn that it remains to be seen how effective the vaccine is in the long run and in different age groups. At the same time, a new challenge has emerged: mutated coronavirus.
– It is far from certain that the vaccines that are under development will protect us well enough. Microorganisms mutate. We see this every year with the flu virus, and that is also what we are witnessing with the coronavirus, says Thomas Bjarnsholt, professor of bacteriology at the University of Copenhagen and Rigshospitalet.  
Bjarnsholt is head of SoftOx's SOFTOX-ME research project in Denmark, which aims to develop a new type of antibiotic with an effect on all types of respiratory infections, including COVID-19.
New type of antibiotic
The researchers are developing an inhalation solution to treat respiratory infections. The medicine is a new type of antibiotic that through animal studies has shown efficacy in killing both bacterial and viral infections.
The results from the studies have led to the Danish Medicines Agency recently issuing a recommendation for fast-track studies for SoftOx's new antibiotics for COVID-19 infections.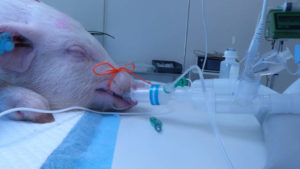 FAST-TRACK STUDIES NEXT: SoftOx has performed studies on pigs with respiratory infections under anesthesia. Promising results have led to a recommendation for further fast-track studies on people with COVID-19 infections. PHOTO: GØTTINGEN MINIPIGS COPENHAGEN
CEO Geir Almås of SoftOx is therefore embarking on the race to develop a life-saving medicine for COVID-19 patients.
– SoftOx's inhalation solution can be a breakthrough in the treatment of all types of respiratory infections and life-saving treatment for COVID-19 patients, Almås claims.
With the recommendation from the Danish Medicines Agency, SoftOx expects that the first COVID-19 studies in humans can start in the second quarter of next year.
– The medicine in our inhalation solution is a new type of antibiotic that does not trigger the development of resistance, as all other antibiotics do, where the medicine ceases to have an effect on patients over time.
– The antibiotics also show an effect on all resistant viruses and mutated coronaviruses, claims Almås.
Also mutated coronavirus
The SoftOx executive is supported by research manager Bjarnsholt, who highlights a much-discussed challenge with mutated coronaviruses on mink farms in Denmark, which has spread to six new countries.
– A good example is the mutations in mink in Denmark, where all the animals are now exterminated. My team and I believe we are facing a breakthrough with SoftOx's treatment of mutated variants of the coronavirus.
There is an insatiable need for new inhalation solutions
– Geir Almås, SoftOx.
– We have tested the solution in the respiratory tract, and see that this can be a new and important treatment principle that can help fight the ongoing pandemic and variants of it, Bjarnsholt claims.
120 billion kroner market excluding COVID-19
SoftOx's inhalation solution targets all types of respiratory infections.
The market in the US and Europe amounts to 12 billion dollars – excluding COVID-19 treatments.
– There is an insatiable need for new inhalation solutions. Our estimate of NOK 120 billion for all types of lung infections other than COVID-19 is a conservative estimate. The global market can be twice as large, says Almås.
He believes it is impossible to estimate the size of the market for COVID-19 treatments.
– But it is substantially larger. Even after a vaccine arrives, there will be a gigantic global need for COVID-19 treatments.