Ose Water established itself in the north of Bygland to supply spring water to the international market. Towards the end of the corona year, they have a new and important source of income.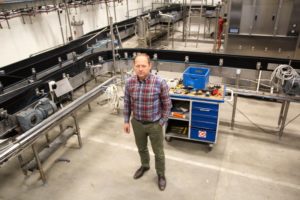 Bergtor Haugå inside the bottling plant at Ose in Bygland where he built up the production line in 2018. Now he has rebuilt it. Photo: Odd-Inge Uleberg
BYGLAND: – This is a very exciting opportunity for us where we become very central in tapping a completely innovative product with great potential, says chairman of the board of Ose Water, Siri Lande, in a press release that was sent out on Monday.
In the summer of 2019, they launched the spring water Ose Water and start tapping on Ose north in Bygland municipality. This factory has also been hit by the corona crisis.
But on Monday, the factory announced that they have signed a contract with the Norwegian company SoftOx Solutions to dispense a newly developed disinfectant.
Siri Lande writes in an email to Fædrelandsvennen that the drug is not produced on Ose. It is the actual bottling, labeling and packaging that takes place there.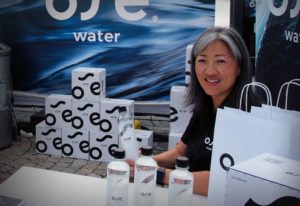 Siri Lande is chairman of the board of Ose Water and went out with the announcement of a new contract on Monday. Here from the launch of Ose Water in 2019. Photo: Kjetil Reite
Had to rebuild
The new contract means that the factory at Ose had to rebuild the production line for bottling.
– They have managed this in record time, says Geir Almås, leader and founder of SoftOx.
According to the press release, the new product is alcohol-free and should therefore be more skin-friendly than the more traditional products.
– Ose Water has proven to be a very skilled company with technological insight and modern bottling equipment. CEO Bergtor Haugå and his team have shown a completely unique ability to adapt and execute, says Geir Almås in the press release.
Ose Water is made up of, among others, Siri Lande and Bergtor Haugå. The factory took over a production line from Voss Production at Vatnestrøm and moved it to Ose in 2018. In July of the following year, production of bottled water began.
The new investment in bottle water from Bygland was known in 2016. In 2017, Ose Water and Bygland municipality entered into an agreement where Ose Water took over the local waterworks at Austad from the municipality.
The production of spring water will continue, even though Ose Water will now also be dispensing disinfectant.
– Bergtor Haugå has designed the conversion himself with tailor-made components so that the production line is now suitable for a number of product categories, says Siri Lande in the press release.